Sumire's Guide to
Ikebukuro
Ikebukuro! I love Ikebukuro! It's a once-in-a-lifetime anime-goods shopping experience (but I used to go there every week).
The place to go in Ikebukuro is K-Books, perhaps the only used-anime-goods store in existance. K-Books sells the usual sorts of things that Animate does, like pencilboards, notebooks, and keychains, at roughly 1/3 to 1/2 off, plus not-for-sale premium items like LD promo posters and the papery goodies that come with shoujo manga, plus manga tankoubon (Y200 for normal-sized stuff like Ranma 1/2, Y300 for oversized stuff like Aa! Megami-sama and hot-off-the-presses popular stuff like the very latest volume of Rurouni Kenshin), artbooks, doujinshi (unfortunately, sealed in plastic bags, so you can only guess at the content from the covers; however, they *do* keep men's doujinshi (hentai) and women's doujinshi (yaoi) in separate sections), CDs, LDs, and videotapes (nonreturnable, but the two videos I bought were just fine). The selection varies widely from month to month.
If K-Books doesn't have what you're looking for, there's a branch of the delightful anime-shop chain Animate just two or three doors down the street. They've got lots of merchandise for the latest hit shows (whatever they may be). Don't miss the manga and A/V departments upstairs--the stairs are located outside in front of the shop.
Adding to Ikebukuro's charm is a branch of Manga no Mori a block away from K-Books and Animate. They carry the usual manga and a few of the latest artbooks and magazines. Also, right across the street from Manga no Mori is Anime Fantasia. They mostly do anime video rentals, but they have a small, competitively-priced selection of secondhand manga, CDs, videos, and doujinshi.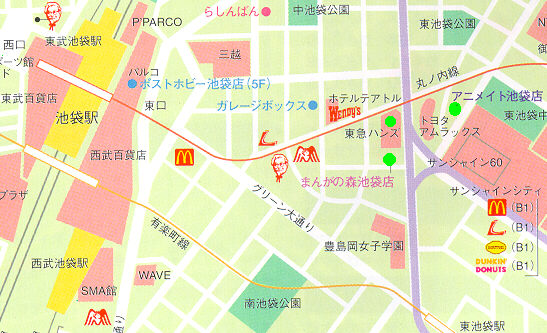 Note: bright green dots indicate Tokyu Hands, Animate, and Manga no Mori.
How to Get There:
Take the East Exit (Higashiguchi) out of Ikebukuro Station (the big yellow block on the left side of the map). You might have to pass through Seibu or Parco department stores. Once outside, you'll want to make your way to Sunshine Doori, a street closed off for pedestrians. There's a Lotteria fast-food restaurant at the start of Sunshine Doori, and a KFC, a Morinaga LOVE, and a Wendy's along the way.

At the end of Sunshine Doori, you'll have a huge funky building that looks kind of like a blue tin can (the Toyota Amlux building) across the street in front of you, an elevated freeway above you, the famous and ugly Sunshine 60 skyscraper diagonally on your right, and Tokyu Hands craft store on your right (if you get lost in Ikebukuro and no one's heard of Animate, ask for directions to Tokyu Hands).

Cross the street to Toyota Amlux, turn right, turn left at the next crosswalk, and K-Books and Animate will be halfway down the block on your left. K-Books has a sign standing on the sidewalk; you have to go inside, past the travel agency, and up the stairs to get to the actual store. The doujinshi section is yet another flight up (if they haven't renovated yet again since I last was there.) Animate is a few doors beyond K-Books and is hard to miss.

Walking back towards Tokyu Hands from K-Books and Animate, you might see the wall across the street painted with a big yellow-and-green Manga no Mori sign. Yep, there it is, on the little street that runs behind Tokyu Hands.