Sumire's Guide to
Shinjuku
The only significant anime shop in Shinjuku is Anime Police Pero (possibly Animepolis Pero, or something--the katakana is "animeporisupero"), but they're cool, because they have a lot of goods for the kind of older anime series that are popular in America, like Ranma 1/2, Record of Lodoss War, and Irresponsible Captain Tyler. They also carry newer stuff as well, of course. It's kind of trippy the way they manage to cram so many little things into such a tiny basement shop.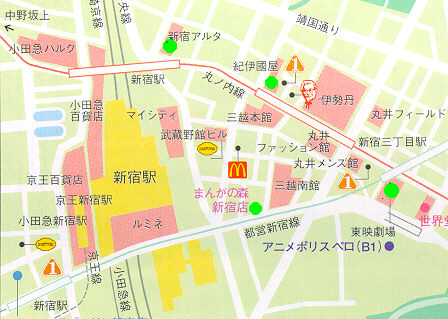 Note: bright green dots indicate Studio Alta, Kinokuniya Bookstore, Anime Police Pero, and Manga no Mori.
How to Get There:
Take the East Exit (Higashiguchi) out of Shinjuku Station (the big yellow block on the left side of the map). See the giant video screen on the wall of Studio Alta? The spot right across the street from it is your starting point. Facing the screen, turn right and start walking down Shinjuku Doori. You'll pass lots of shops--the famous bookstore Kinokuniya and the huge department store Isetan on your left; the men's section of Marui department store on your right. Marui Men's has big red signs with "OIOI MEN'S" in white. Anime Police Pero is not far past Marui Men's--the sidewalk will widen in front of the Toei Gekijo movie theater, and there, on your right, will be a window full of anime posters and a little door with stairs going down. That's Anime Police Pero.

There's also a Manga no Mori in Shinjuku, but I've never been there.